Impatiens capensis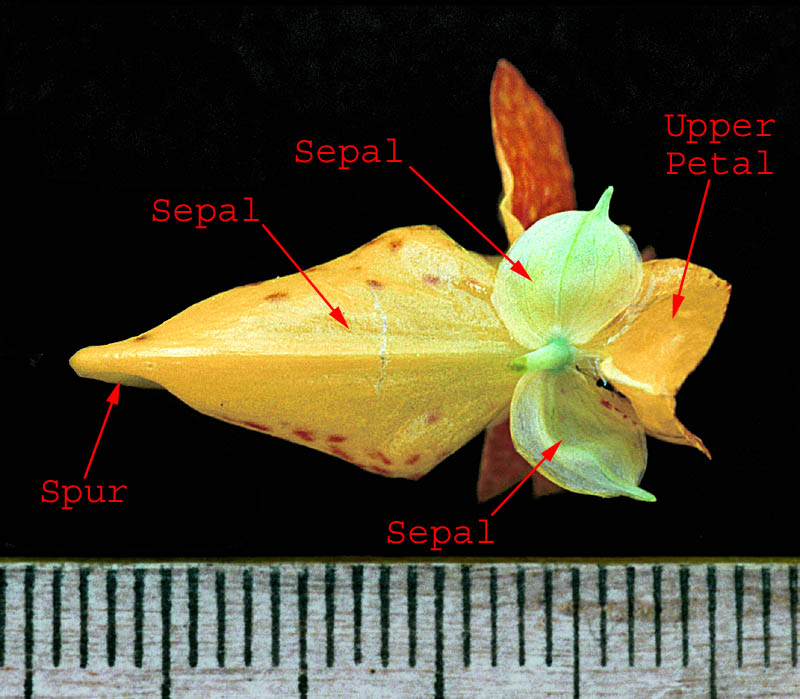 Spotted Touch-Me-Not
Flower Top

Rendick Elm Forest
15 Miles East of Hudson Bay, Saskatchewan
02-Aug-2005

Labels "upper" and "top" in this picture refer to the orientation of the flower on a healthy plant in the ground. Because the flower is drooping, the pedicel attaches to the upper or top portion of the flower.

Note that the key to the family in Budd's Flora requires "calyx regular". In fact, the calyx is highly irregular as implied in another requirement in the same key that "one sepal is petal-like and spurred".

This species is also known as Impatiens biflora.
Capensis: Answers to key questions in Budd's Flora and Flora of Alberta leading to this species.

| | |
| --- | --- |
| | flowers usually bright orange or reddish yellow; NOT pale yellow |
| | flowers spotted |
| | flowers sharply contracted to spur; NOT gradually tapering to spur |
| | spur bent back parallel with the sac; spur NOT [recurved but not abruptly so] |
Balsaminaceae: Answers to key questions in Budd's Flora leading to this family.

| | |
| --- | --- |
| | herbs; NOT shrubs, NOT trees |
| | plants terrestrial or semiaquatic; plants NOT aquatic, leaves NOT [submerged or floating] |
| | plants NOT with colored milky juice |
| | plants with more than one normal leaf |
| | some or all leaves alternate; leaves NOT [opposite, whorled or basal] |
| | leaves without stipules, or having glands |
| | flowers with two floral rings, and with each petal distinct from the others |
| | sepals 3 |
| | calyx regular |
| | one sepal petal-like and spurred |
| | stamens 10 or fewer |
| | ovary superior; NOT inferior |
| | carpels 3-5; NOT [1 or 2] |
| | fruit an explosive capsule |