Solidago ptarmicoides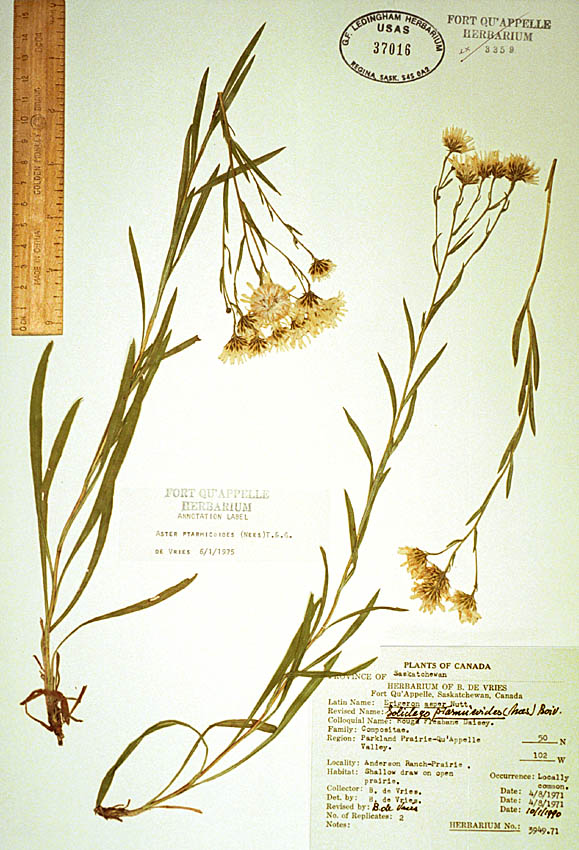 Upland White Goldenrod
G. F. Ledingham Herbarium
University of Regina
This species superficially resembles members of the Aster genus rather than appearing as a typical Solidago. The anomalous features of S. ptarmicoides are not taken into account in the key to the Solidago genus in Budd's Flora. Thus this key requires:
| | |
| --- | --- |
| | heads small and numerous, in terminal or axillary clusters; NOT [usually solitary at ends of branches] |
| | ray florets yellow; NOT [pink, blue, purple, or white] |
The above are clearly not true for S. ptarmicoides. Note that S. ptarmicoides will interbreed with other Solidago species, indicating its membership in that genus.
Ptarmicoides: Answers to key questions in Budd's Flora leading to this species.

| | |
| --- | --- |
| | inflorescence corymbose, with the branches slanting upward, forming a founded or flat-topped inflorescence; NOT [inflorescence a panicle or spike] |
| | ray florets white or pale yellow; NOT [ray florets yellow] |
| | ray florets large, 5-8 mm long; NOT [ray florets usually less than 5 mm long] |

Solidago: Answers to key questions in Budd's Flora (BF) and Flora of Alberta (FOA) leading to this genus. These do not include the two incorrect answers described above.

| | |
| --- | --- |
| | plants with fibrous roots; NOT with a taproot |
| | juice watery; NOT milky |
| | leaves alternate or basal; NOT opposite |
| | leaves simple; NOT pinnatifid, NOT divided |
| | leaves never spinescent |
| | involucral bracts in 2 or more series; NOT [in one series, sometimes with a few much shorter outer ones at the base] |
| | involucral bracts well imbricated; NOT scarcely imbricated |
| | receptacle naked (FOA) |
| | flower heads with both tubular and ray florets |
| | ligulate flowers pistillate or neuter; NOT perfect |
| | stamens united to form a tube around the pistil |
| | pappus composed of hairs; NOT scales, NOT bristles, NOT firm awns, NOT a crown, NOT absent, pappus NOT chaffy |
| | pappus single, hairs sometimes unequal but not distinctly divided into an inner and outer series of two lengths; NOT [pappus double, hairs of the outer series inconspicuous, distinctly shorter than the inner] |