Arabis lyrata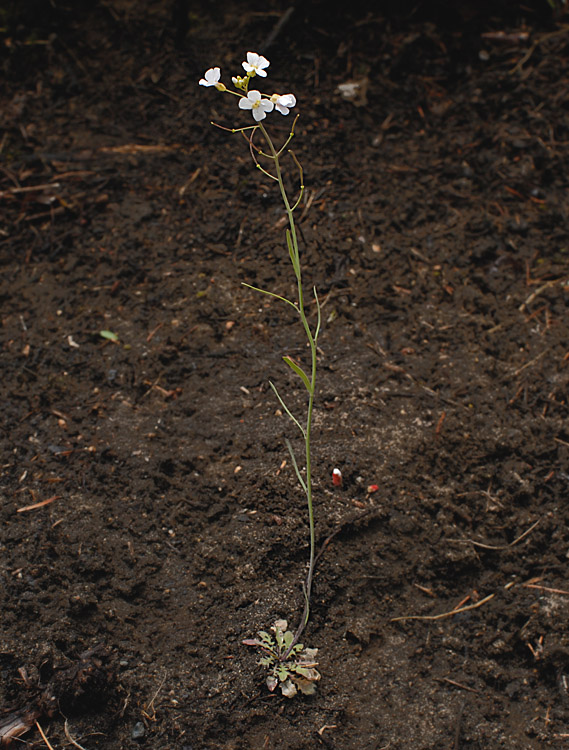 Lyre-Leaved Rock Cress
Plant A in Ground

Hudson Bay Regional Park
09-June-2009
Note that this specimen is not tufted as is required in the key to the species in Budd's Flora. It was growing in sandy soil under pine trees during a dry spring so conditions may not have been favorable. Other specimens in the same area were tufted (see adjacent photo).
The keys to genera in Budd's Flora and Flora of Alberta contain questions about leaf shape. These questions do not distinguish between basal and cauline leaves, and are therefore confusing when applied to this species which has lyrate-pinnatifid basal leaves and entire or slightly toothed cauline leaves. Therefore the answers to these questions have been eliminated from the list below. In addition, an answer from Flora of Alberta requiring plants generally pubescent; NOT [plants mostly glabrous] has also been eliminated because it does not apply to this species.
The key to the species in Flora of Alberta requires basal leaves NOT ciliate; NOT [basal leaves generally strongly ciliate]. The petioles of the basal leaves of these specimens are ciliate, so the answer to this question has also been eliminated.
Lyrata: Answers to key questions in Budd's Flora and Flora of Alberta leading to this species.

| | |
| --- | --- |
| | plants usually less than 3 dm tall; NOT [plants mostly well over 3 dm tall] |
| | plant tufted; NOT [plant slightly tufted] |
| | plants glabrous or only sparsely hirsute at base; NOT [plants hirsute at base] |
| | basal leaves (at least some) lyrate-pinnatifid; NOT [basal leaves entire] |
| | basal leaves NOT ciliate; NOT [basal leaves generally strongly ciliate] |
| | cauline leaves NOT auriculate; NOT [cauline leaves usually auriculate] |
| | flowers usually white or cream, sometimes pink to lavender-tinged |
| | pods erect or ascending; NOT [pods spreading or reflexed] |
| | pods flattened parallel to the partition; NOT [pods almost circular in cross section] |
| | pods less than 1.5 mm wide; NOT [pods generally more than 1.5 mm wide] |
| | seeds wingless or the wing less than 0.3 mm wide; NOT [seeds winged, the wing mostly over 0.3 mm wide] |

Arabis: Answers to key questions in Budd's Flora and Flora of Alberta leading to this genus.

| | |
| --- | --- |
| | NOT [stem 1-5 (10) cm tall, barely exceeding the leaves, generally scapose; fruit linear, more than 10 times longer than broad; plants glabrous] |
| | plants of drier habitats; NOT [plants aquatic or of marshy habitats] |
| | plants glabrous to more or less pubescent; NOT [plants densely grayish to silvery pubescent] |
| | plants more or less glabrous above; NOT [plants pubescent above] |
| | plants with pubescence mostly or entirely of branched hairs; NOT [plants glabrous, or the pubescence of simple hairs] |
| | leaves and stem usually with forked or starry hairs |
| | cauline leaves NOT pinnate |
| | cauline leaves, if any, NOT auriculate and clasping |
| | flowers much smaller; NOT [flowers 20-25 mm across] |
| | petals much shorter; NOT [petals 15-20 mm long] |
| | flowers white, sometimes tinged with pink or purple or purple veined; NOT [flowers pink, purple, or yellow] |
| | pods 20-40 mm long; NOT [fruit 5-11 mm long] |
| | pods 1.0-1.5 mm wide; NOT [fruit 1.5-2.5 mm wide] |
| | pods linear; NOT [fruits lanceolate to oblong] |
| | pods usually at least 4 times as long as wide; NOT [pods usually not more than 3 times as long as wide] |
| | pods strongly flattened; NOT [pods round or 4-angled in cross section] |
| | pods compressed parallel to the central partition; NOT [pods compressed at right angles to the central partition] |
| | fruits straight; NOT [fruits often twisted] |
| | pods NOT torulose |
| | pods NOT moniliform |
| | pods scarcely beaked; NOT [pods with a long, distinct beak] |
| | fruit nerveless; NOT [fruit prominently 1-nerved] |
| | central partition entire; NOT [central partition with an opening sometimes almost reduced to the margin] |
| | fruits dehiscent |
Cruciferae: Answers to key questions in Budd's Flora leading to this family.

| | |
| --- | --- |
| | herbs; NOT [shrubs or trees] |
| | plants terrestrial or semiaquatic; NOT [plants aquatic, leaves submerged or floating] |
| | plants NOT with colored milky juice |
| | plants with more than one normal leaf |
| | some or all leaves alternate; NOT [leaves opposite, whorled, or basal] |
| | leaves without stipules, or having glands; NOT [leaves with stipules] |
| | flowers with two floral rings, and with each petal distinct from the others |
| | calyx regular; NOT [calyx irregular, some sepals smaller than others] |
| | sepals 4 |
| | corolla regular in shape; NOT [corolla irregular in shape] |
| | petals 4; NOT [petals5] |
| | stamens usually 6, four long and two short; NOT [stamens 6, of equal length], NOT [stamens usually more than 10] |
| | ovary superior; NOT [ovary inferior] |
| | carpels 1 or 2; NOT [carpels 3-5] |