Rhamnus alnifolia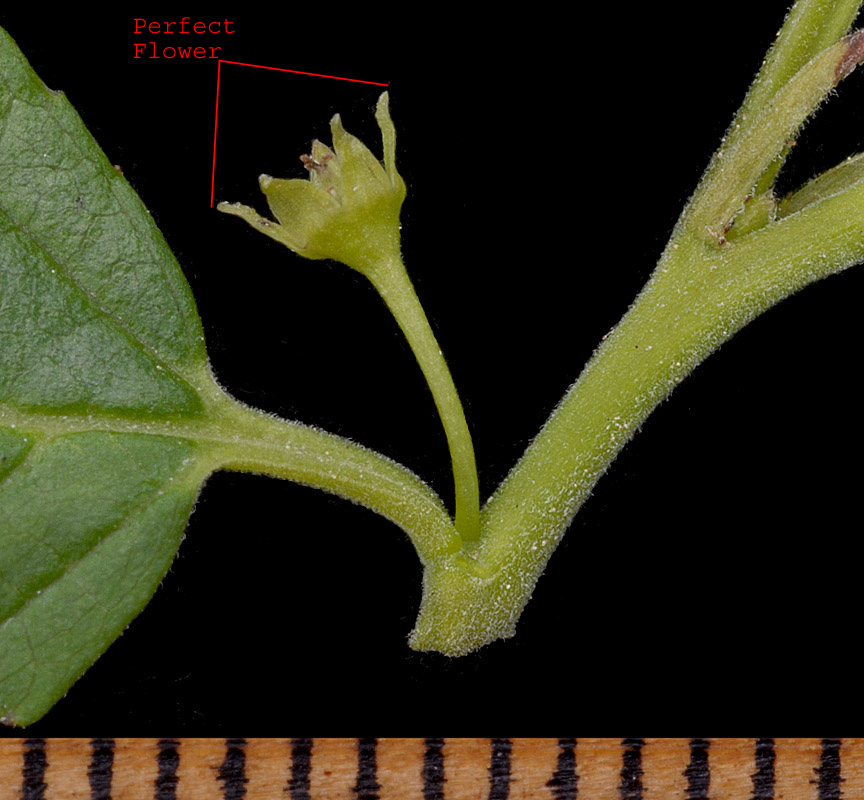 Alder-Leaved Buckthorn
Perfect Flower Side, Stipules Removed

Fir River Shelter on Fir River Road, West of Hudson Bay
15-June-2015
The stipules have been removed to reveal the pedicel base.
The leaf axils of new growth each produce an umbel of one to three flowers.
This species is polygamo-dioecious. This means it is mostly dioecious (flowers imperfect with male and female flowers on separate plants) but with some perfect flowers. The population depicted here was composed of some plants with male flowers and some plants with perfect flowers. Flora of the Great Plains states that the morphologically perfect flowers are in fact functionally imperfect. This would imply that the stamens on the perfect flowers depicted on this site are sterile.
Alnifolia: Answers to key questions in Budd's Flora and Flora of Alberta leading to this species.

| | |
| --- | --- |
| | branches not thorny; NOT [some branches ending in a short thorn] |
| | leaves serrate; NOT [leaves entire] |
| | flowers unisexual; NOT [flowers perfect] |
| | flowers apetalous; NOT [flowers with petals present] |
| | flowers 5-merous; NOT [flowers 4-merous] |

Rhamnus: Answers to key questions in Budd's Flora and Flora of Alberta leading to this genus.

| | |
| --- | --- |
| | leaves pinnately veined; NOT [leaves 3-nerved from the base] |
| | flowers axillary, in few-flowered umbels or solitary; NOT [flowers numerous in a dense terminal panicle] |
| | fruit juicy; NOT [fruit dry] |
Rhamnaceae: Answers to key questions in Flora of Alberta leading to this family.

| | |
| --- | --- |
| | plants not parasitic on coniferous trees; NOT [plants parasitic on the trunks and branches of coniferous trees (pines)] |
| | trees or shrubs; NOT [herbs] |
| | plants 5-20 dm tall; NOT [plants 1-2 (5) dm tall] |
| | leaves simple, not lobed; NOT [leaves pinnately compound or palmately lobed] |
| | leaves ovate to elliptic; NOT [leaves needle-like] |
| | leaves 3-10 cm long; NOT [leaves 0.5-1.0 cm long] |
| | flowers perfect, or, if imperfect, the plants herbaceous, or, if woody, the flowers not in catkins; NOT [flowers imperfect, the staminate, and generally the pistillate too, in catkins; trees or shrubs] |
| | perianth uniseriate (i.e. of only one series of appendages all more or less the same) or entirely absent; NOT [perianth biseriate (i.e. of two different series of appendages, the inner generally larger, coloured, the outer generally smaller, greenish)] |
| | ovary superior; NOT [ovary inferior or partly so, or closely enclosed by the calyx and appearing inferior] |
| | fruit berry-like, black; NOT [fruit winged] |