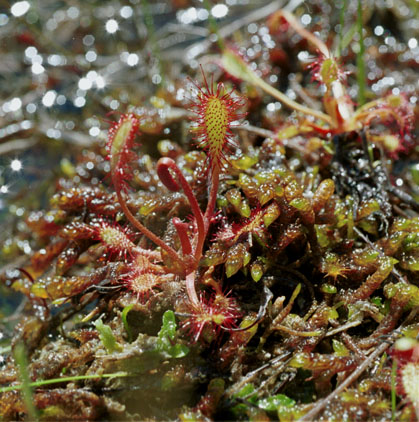 Introduction
I am Colin Ladyka, and I live in Regina, Saskatchewan, Canada. Native plants are my hobby.
This web site contains pictures I have taken of flowering plants (excluding grasses) found in Saskatchewan. The site includes pictures for 40 of the 103 sedges found in this province. The pictures are from two sources. The first is plants I have personally identified in the field. The second is pressed specimens from the George F. Ledingham Herbarium at the University of Regina. The herbarium specimens were collected and identified by many people at the university over the course of many decades, and the photographs of these are included on this web site courtesy of the herbarium.
Collaborators
I have photographed a large number of the species on this web site in the countryside near Hudson Bay, SK. My friend Dave Biggs, who resides in Hudson Bay, located and identified many of these. I very much appreciate his contribution to this project.
Some of the species have location maps. They were created and kindly provided to this site by the late Derry Graves.
Cover Picture
Drosera anglica (Oblong-leaved Sundew) is depicted above. This plant is one or two cm high, lives in bogs, and catches insects with the sticky hairs on its leaves. Bogs are nitrogen-deficient and these insects provide an alternate source of this element.
Purpose and Philosophy
The purpose of this web site is to assist the amateur in identifying native plants. Text has been kept to a minimum because written descriptions are already available in the various flora. Single pictures of common species can be found in popular field guides. However photographs of individual parts of plants are generally not available, and it is this niche which I am attempting to fill here. Sometimes the textual descriptions in identification keys appear unclear or ambiguous to amateurs such as myself. I hope this site will allow users to correlate these textual descriptions with pictures, and thereby resolve any questions they may have. Finally, I hope that people will simply enjoy looking at the pictures.
Measurement
Flora contain detailed descriptions of the sizes of the plant parts being discussed. By including a ruler in many of the pictures, I hope to encapsulate all that information and more. The ruler has a metric scale on one edge and an Imperial scale on the other. This site uses the metric system, and the metric edge will always be in view. The finest resolution on the ruler is mm.
Navigation
This site contains three frames. A frame is a subwindow within a web page. The left-most column-like frame is the contents frame. The top-most frame extending across the entire width of the page is the banner frame. The large square frame in the bottom right is the main frame.
Taxonomists have organized plants into various categories. The broadest category utilized by this site is family. Each family contains one or more genera. Each genera, in turn, contains one or more species.
The contents frame initially contains a scrollable list of plant families. Families for which I have pictures are hyperlinks and are coloured blue. Clicking on one of these hyperlinks loads a more detailed list about that family into the contents frame. This more detailed list contains various genera belonging to the family, and underneath each genera are various species belonging to the genera. Species for which I have pictures are hyperlinks. Clicking on one of these hyperlinks loads the top level page for that species into the main frame.
The top level page for a species contains a number of thumbnail images. Clicking on one of these loads the full sized image into the main frame. To go back to the thumbnail page, click on the browser's BACK button, or click on the species hyperlink in the contents frame again.
Clicking on the reset hyperlink in the banner frame reloads the contents frame back to its initial configuration. Note that the contents frame is really just one long list, and clicking on a family hyperlink near the top simply scrolls the list down to the portion containing the genera and species for that family.
Phylogeny
A phylogenetic tree of the most common plant families found in Saskatchewan can be found here.
Notes
Each full-sized picture is followed by some notes. These usually consist of answers to questions posed in keys in Budd's Flora and Flora of Alberta. The answers are grouped according to whether they are from keys leading to the species, genus, or family. Answers from similar questions from both sources are placed together, and duplicate answers eliminated.
Site Development
The web site now contains 495 species, the latest pictures added 24-Feb-2019.
Recent additions are new species Carex pedunculata, Carex foenea, Carex loliacea, Carex leptalia, Carex lacustris, Carex media, and Carex vulpinoidea.
Three extra pictures for Carex atratiformis, three extra pictures for Carex capillaris, and nine extra pictures for Carex sartwellii.
Added 24 flowering plant pictures to Salix lucida. Added17 flowering plant pictures to Salix lasiandra.
New species Salix scouleriana, Salix maccalliana, and Salix serissima.
Added 17 new pictures to Salix interior. Added 6 new pictures of staminate catkins and flowers to Salix candida.
Updated text for Bolboschoenus fluviatilis, Eleocharis acicularis, Eleocharis elliptica, Eleocharis erythropoda, and Eleocharis palustris to use keys in Rushes, Bulrushes & Pondweeds plus the remaining Monocots of Saskatchewan by V. L. Harms, A. L. Leighton, and M. A. Vetter.
New species Juncus arcticus, Juncus dudleyi, Juncus longistylis, Juncus nodosus, and Juncus stygius.
Replaced almost all pictures for Mitella nuda.
Updated text for Eriophorum chamissonis, Eriophorum gracile, Eriophorum vaginatum, Eriophorum viridicarinatum, Schoenoplectus acutus, Schoenoplectus tabernaemontani, Schoenoplectus pungens, Trichophorum alpinum, Trichophorum cespitosum, Scirpus microcarpus, and Rhynchospora alba to use keys in Rushes, Bulrushes & Pondweeds plus the remaining Monocots of Saskatchewan by V. L. Harms, A. L. Leighton, and M. A. Vetter.
New species Acer spicatum and Humulus lupulus (staminate plant only).
Two new pictures for Eleocharis elliptica.
New species Bolboschoenus maritimus. Removed all pictures for Chrysosplenium tetrandrum (id uncertain), new species Chrysosplenium iowense.
News species Atriplex prostrata, Atriplex heterosperma (fruit stage only), and Atriplex hortensis (fruit stage only). New species Chenopodium glaucum (flower stage only). New species Chenopodium rubrum and Kochia scoparia.
New pictures for Ranunculus cymbalaria. New species Phacelia franklinii. Two new pictures of fruiting Smilax lasioneuron. New species Lepidium densiflorum. Seven new pictures for Houstonia longifolia. Two new pictures of fruiting Pulsatilla patens. Two new pictures of fruiting Triantha glutinosa.
Removed Carex lasiocarpa and placed those photographs under Carex pellita.
Use of Photographs
If you wish to use any of the photographs on this web site, please contact me at 306-359-3806 after 5:00 PM Saskatchewan time (Central-Standard/Mountain-Daylight).
Links to Other Sites
Flora and Field Guides
The following are floras and field guides applicable to the Canadian prairie provinces:
Budd's Flora of the Canadian Prairie Provinces
Research Branch
Agriculture Canada
Publication 1662 1987


Flora of Alberta
E. H. Moss
University of Toronto Press
1977


The Flora of Canada (Parts I through IV)
H. J. Scoggan
National Museums of Canada
Publications in Botany, No. 7 (1-4)


Flora of the Great Plains
Great Plains Flora Association
University Press of Kansas
1986


How to Identify Flowering Plant Families
John Philip Baumgardt
Timber Press
1982



Wildflowers Across the Prairies
F. R. Vance, J. R. Jowsey, J. S. McLean, and F. A. Switzer
Greystone Books and University of Minnesota Press
1999


Saskatchewan Wildflowers Western Area
Lloyd T. Carmichael
For the Saskatchewan Museum of Natural History
Saskatchewan Department of Natural Resources
1967


Woodland Wildflowers of Eastern Saskatchewan
Lloyd T. Carmichael
For the Saskatchewan Museum of Natural History
Saskatchewan Department of Natural Resources
1966


Plants of the Western Boreal Forest & Aspen Parkland
Derek Johnson et al.
Lone Pine Publishing
1995


Wildflowers of Alberta
Kathleen Wilkinson
The University of Alberta Press & Lone Pine Publishing
1999


Aboriginal Plant Use in Canada's Northwest Boreal Forest
Robin J. Marles, et al.
UBC Press
2000


Weeds of Canada and the Northern United States
France Royer and Richard Dickinson
Lone Pine Publishing and The University of Alberta Press
1999


Rare Vascular Plants of Alberta
The Alberta Native Plant Council
The University of Alberta Press and The Canadian Forest Service
2001


Trees and Shrubs of Alberta
Kathleen Wilkinson
Lone Pine Publishing
1990


Native Trees of Canada
R. C. Hosie
Canadian Forestry Service
1975


Wildflowers Grasses & Other Plants of the Northern Plains and Black Hills
Theodore Van Bruggen
Badlands Natural History Association
1992


Weeds
A Golden Guide from St. Martin's Press
Alexander C. Martin
St. Martin's Press