Atriplex heterosperma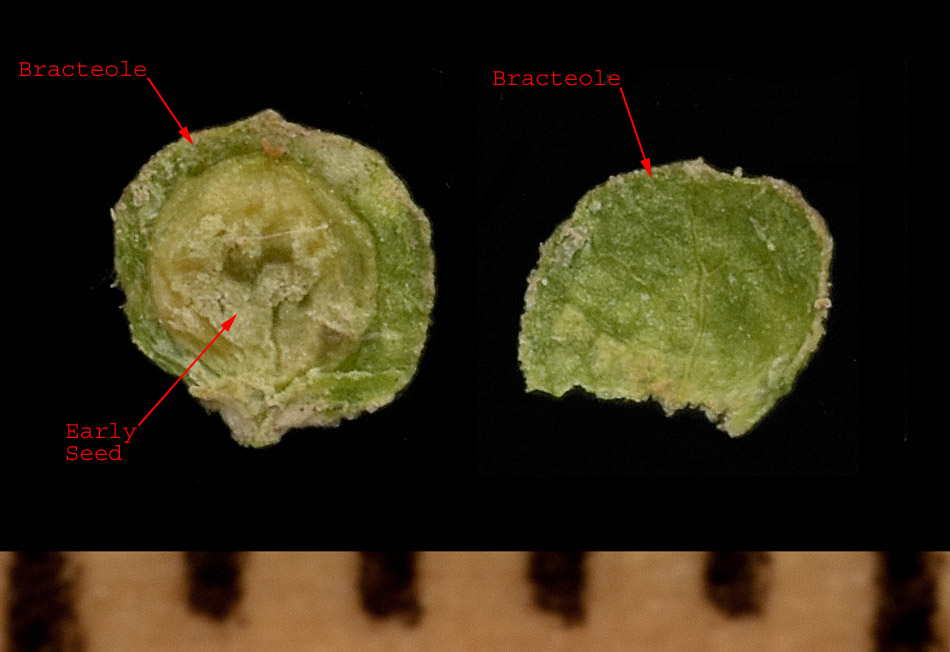 Two-Scale Atriplex
Early Fruit With Small Seed, Cut Open

Regina
18-Oct-2018
The seed will turn black as it matures.
The pistillate flower has no perianth. Instead the ovary is enclosed within two bracteoles. After fertilization, the ovary will develop into a utricle. The structure composed of the two bracteoles plus the enclosed utricle can be viewed as an accessory fruit. It is an accessory fruit because the bracteoles are not derived from the ovary. The pericarp of the utricle is thin, membranous, and easily removed from the interior seed. As a result, the structure enclosed by the bracteoles is usually simply referred to as the seed. This species has two types of seeds: large yellowish brown ones and small black ones.
A key to all the Atriplex species occurring in Saskatchewan is found here. This key was derived from the key in the Flora of North America by removing all the non-Saskatchewan species.
Atriplex: Answers to key questions in Budd's Flora and Flora of Alberta leading to this genus.

| | |
| --- | --- |
| | herbs or low shrubs |
| | plants not spiny or prickly |
| | plants with hyaline or white encrusting scales on stem and leaves; NOT [plants densely pubescent with yellowish brown stellate hairs] |
| | stems not fleshy |
| | stems not jointed |
| | leaves alternate; NOT [leaves and branches opposite] |
| | leaves not reduced to scales |
| | petioles shorter than the lamina; NOT [petioles as long as and generally much longer than the lamina] |
| | flowers not sunk into the stem |
| | flowers not subtended by scarious bracts |
| | plants monoecious or dioecious |
| | staminate flowers without bracteoles but with a 3-5 lobed calyx; NOT [staminate flowers in catkin-like spikes, without a perianth, but subtended by peltate bracts] |
| | sepals herbaceous or fleshy; NOT [sepals scarious] |
| | pistillate flowers lacking a perianth but possessing a pair of bracteoles that enclose the ovary and enlarge in fruit |
| | fruiting bract united, at least at base |
| | fruiting bracts not covered with silvery, silky hairs |
| | fruit not 2-toothed at apex |
| | seed coat not winged at apex |
| | seed coat leathery; NOT [seed coat membranous] |

Amaranthaceae: Answers to key questions in Budd's Flora leading to this family. Not all the answers apply to all the genera in Amaranthaceae, but they all do apply to Atriplex.

| | |
| --- | --- |
| | herbs or occasionally low shrubs; NOT [shrubs or trees] |
| | land plants; NOT [water plants] |
| | plants not parasitic on trees, rooted in soil |
| | plants not twining and climbing |
| | plants without milky sap |
| | plants monoecious or dioecious |
| | flowers with only one floral ring, with sepals but not petals |
| | pistillate flowers without calyx |
| | stigmas 2; NOT [stigmas 1] |
| | fruit not catkin-like; NOT [pistillate flowers and fruit in catkin-like spikes] |
| | fruit enclosed in 2 bracteoles; NOT [fruit enclosed by 2-4 perianth segments] |
| | NOT [fruit 3-seeded, splitting open at maturity] |