Helianthus laetiflorus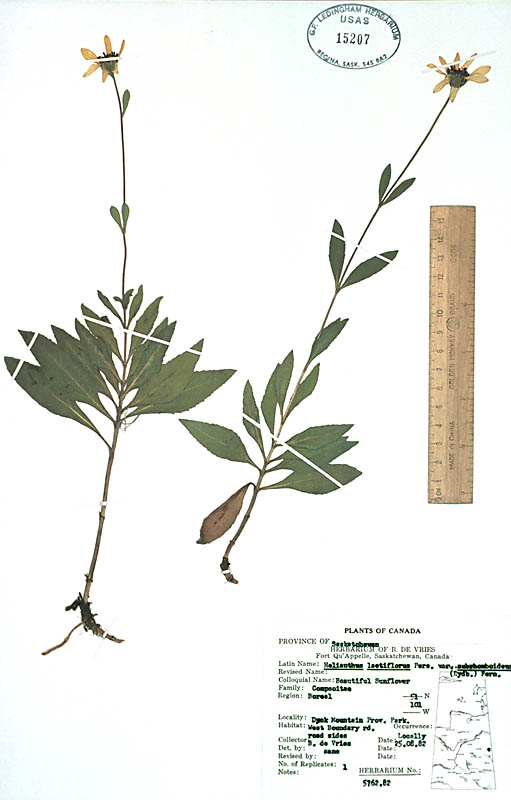 Beautiful Sunflower
G.F. Ledingham Herbarium
Flora of Alberta states that the achenes of genus Helianthus bear a "pappus of small scales or awns, soon falling off".
Budd's Flora keys genus Helianthus as having "achenes without barbed awns" (italics my own).
It also keys genus Helianthus as having "pappus composed of scales, bristles, or barbs"; not "pappus absent, or present merely as a short crown".
I have found that neither flora easily distinguishes between Helianthus and Rudbeckia (Rudbeckia hirta is Black-eyed Susan) in their keys. However, they do note that the receptacles of Rudbeckia are more conic and the leaves always alternate.
Laetiflorus Characteristics

| | |
| --- | --- |
| | perennials |
| | leaves mostly opposite |
| | larger leaves somewhat rhombic |
| | involucre bracts broad, firm, appressed |
| | receptacle convex or low-conical |
| | disk of flower heads purple, red, or dark brown |

Helianthus Characteristics

| | |
| --- | --- |
| | juice watery, not milky |
| | plants not heavy scented |
| | plants more or less leafy-stemmed |
| | plants not with a woody caudex |
| | leaves not compound |
| | leaves not linear |
| | at least the lower leaves opposite |
| | involucre not glandular nor glutinous |
| | involucre bracts in one or more series, but all of the same nature |
| | receptacle flat or convex, not conic or columnar |
| | receptacle with chaffy scales between the florets |
| | flower heads with both tubular and ray florets |
| | rays conspicuous |
| | ray florets yellow |
| | ligulate (ray) flowers either pistillate or neutral |
| | pappus composed of small scales or awns, soon falling off; not composed of hairs |