Calystegia sepium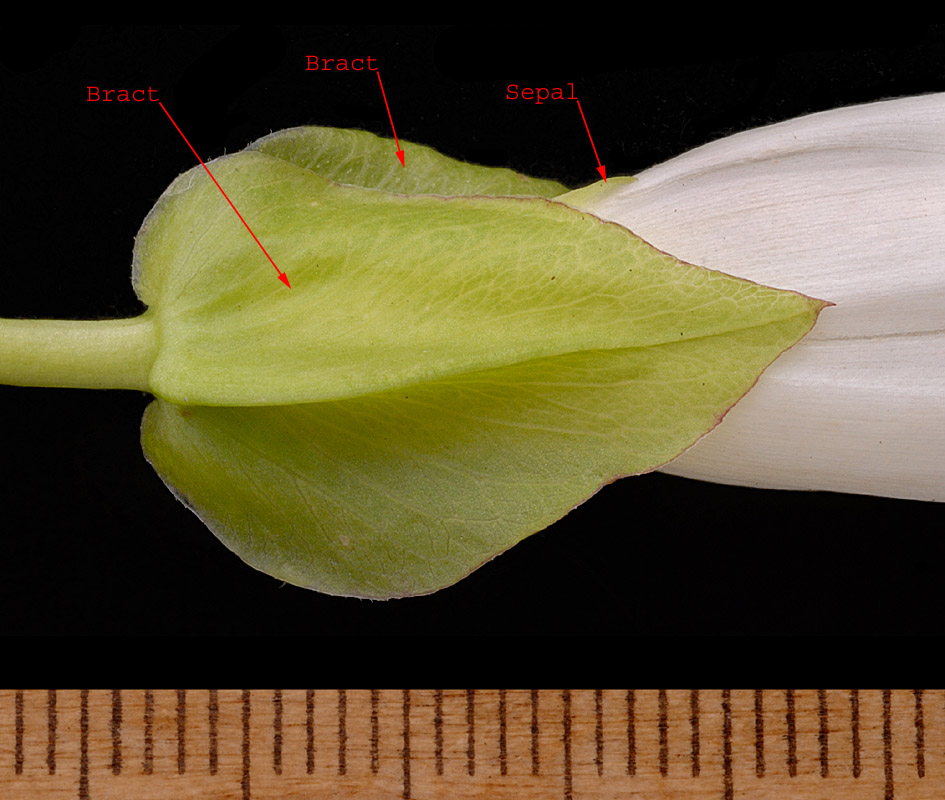 Hedge Bindweed
Bract

Moose Mountain Provincial Park
06-August-2011
Note the two large, foliaceous bracts enclosing the semi-transparent sepals.
Both Budd's Flora and Flora of Alberta classify this species as Convolvulus sepium. However, other treatments such as Flora of China, Checklist of the Vascular Plants of Saskatchewan, and Flora of the Great Plains place it in genus Calystegia. Therefore I have used the answers from the species and genus keys in Flora of the Great Plains, but have still used the answers from the family key in Budd's Flora, in the lists below. Budd's Flora still includes genus Cuscuta in family Convolvulaceae (unlike more recent treatments), but the key answers listed below all just pertain to the non-Cuscuta portion of the family.
Flora of China states that nearly all the taxa in Calystegia intergrade geographically into neighboring taxa and that the species boundaries are largely arbitrary.
Sepium: Answers to key questions in Flora of the Great Plains leading to this species.

| | |
| --- | --- |
| | plants normally glabrous or with a few trichomes on petioles; NOT [plants normally pubescent on all vegetative parts] |
| | blade tissues beginning at the point of petiole attachment; NOT [blade tissues not beginning for 2-5(10) mm from petiole attachment] |
| | leaf sinus V- or U-shaped; NOT [leaf sinus quadrate] |
| | blade of leaf basally 2-angled; NOT [blade of leaf basally rounded] |

Calystegia: Answers to key questions in Flora of the Great Plains leading to this genus.

| | |
| --- | --- |
| | calyx enclosed by 2 foliaceous bracts; NOT [calyx not enclosed, the bracts scalelike] |
| | corolla 4-6 cm long; NOT [corolla 0.5-3 cm long] |
Convolvulaceae: Answers to key questions in Budd's Flora leading to this family.

| | |
| --- | --- |
| | herbs; NOT [shrubs or trees] |
| | plants green or with some chlorophyll; NOT [plants parasitic or saprophytic, without chlorophyll] |
| | plants without milky juice |
| | twining plants |
| | flowers not in heads or spikes; NOT [flowers in long or short spikes], NOT [flowers in heads or in form resembling a head] |
| | flowers with two floral rings, but with the petals wholly or partly united forming a tube or bell |
| | corolla regular; NOT [corolla irregular] |
| | corolla funnelform |
| | corolla large |
| | ovary superior; NOT [ovary inferior] |