Descurainia sophia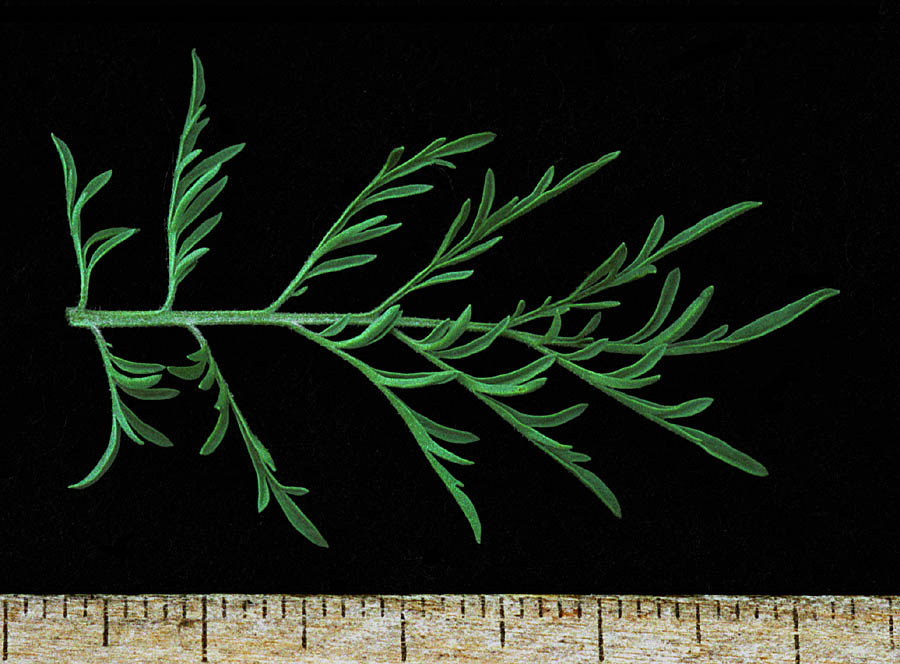 Flixweed
Upper Stem Leaf Top

Confluence of South Antler River & Souris River, Manitoba
16-June-2003

Note that the leaf is bi-pinnate, not singly pinnate.

Note that the key to the species in Budd's Flora requires "pubescence of mostly stellate hairs". Yet the key to the genus in the same flora requires "pubescence of forked hairs". The plant is, in fact, stellate-pubescent.
Sophia: Answers to key questions in Budd's Flora and Flora of Alberta leading to this species.

| | |
| --- | --- |
| | plants NOT glandular |
| | pubescence of mostly stellate hairs; NOT of simple hairs (Budd's Flora) |
| | both upper and lower leaves 2 or 3 times divided; NOT [leaves generally pinnate]; NOT [upper leaves simply pinnate] |
| | pedicels much shorter than the fruit; NOT more than half the length of the fruit |
| | replum 2-3 nerved; NOT 0-1 nerved |
| | seeds uniseriate; NOT [partially biseriate or less than 20] |
Descurainia: Answers to key questions in Budd's Flora and Flora of Alberta leading to this genus.

| | |
| --- | --- |
| | pubescence of forked hairs; plants NOT [with simple hairs or glabrous] (Budd's Flora) |
| | plants stellate-pubescent (Flora of Alberta) |
| | upper cauline leaves NOT [auriculate and clasping] |
| | stem leaves bi- to tri-pinnately divided; NOT [entire to dentate]; NOT [lyrate to pinnatifid] |
| | petals yellow; NOT [white, pink-tinged, pink or purple] |
| | pods NOT compressed at right angles to the central partition |
| | pods usually at least 4 times as long as wide; NOT [3 or less times as long] |
| | pods scarcely beaked; NOT with a long, distinct beak |
Cruciferae: Answers to key questions in Budd's Flora leading to this family.

| | |
| --- | --- |
| | herbs |
| | plants terrestrial or semi-aquatic; NOT aquatic |
| | plants NOT with colored milky juice |
| | plants with more than one normal leaf |
| | some or all leaves alternate |
| | leaves without stipules, or having glands |
| | flowers with two floral rings, and with each petal distinct from the others |
| | calyx regular |
| | sepals 4 |
| | corolla regular in shape |
| | petals 4; NOT 5 |
| | stamens usually 6, four long and two short; NOT [stamens 6, of equal length] |
| | ovary superior; NOT inferior |
| | carpels 1 or 2; NOT 3-5 |