Geum aleppicum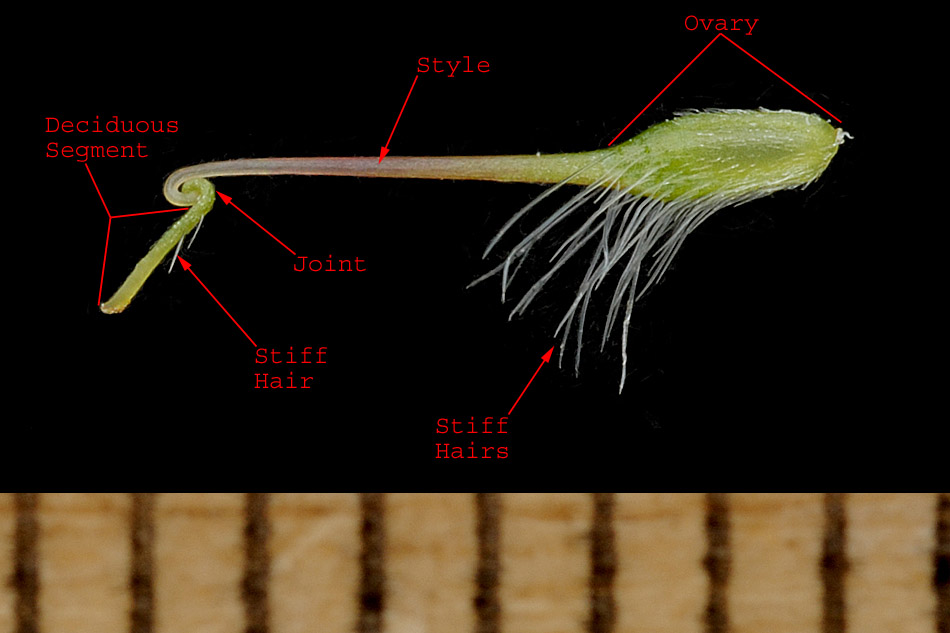 Yellow Avens
Carpel

Moose Mountain Provincial Park
10-July-2009
Note the base of the style does not have gland-tipped hairs, unlike G. macrophyllum whose style base is glandular-pubescent.
Other differences between these two species are included in the answers to the keys to the species listed below. In addition, A Flora Of Northeastern Minnesota states that the sepals are 5-9 mm long in G. aleppicum but are only 2.5-5 mm long in G. macrophyllum.
Note the requirement in the key to the species in Budd's Flora that upper portion of style hairy; NOT [upper portion of style not hairy, or with only a few stiff hairs] is not useful with respect to this specimen.
Aleppicum: Answers to key questions in Budd's Flora and Flora of Alberta leading to this species.

| | |
| --- | --- |
| | cauline leaves several; NOT [leaves mostly basal, cauline leaves few (2)] |
| | cauline leaves alternate; NOT [cauline leaves opposite] |
| | leaves lyrately pinnate; NOT [leaves pinnate] |
| | terminal segment of basal leaves cuneate at base; NOT [terminal segment of basal leaves cordate or rounded at base] |
| | terminal segment of basal leaves deeply incised; NOT [terminal segment of basal leaves 3-lobed] |
| | flowers erect; NOT [flowers nodding] |
| | sepals reflexed; NOT [sepals erect or spreading] |
| | sepals 3-8 mm long; NOT [sepals 7-10 mm long] |
| | petals yellow; NOT [petals purplish, flesh-colored, or purple-veined] |
| | style jointed |
| | upper portion of style less than one-third the length of lower part; NOT [upper part of style at least half as long as lower part] |
| | style NOT glandular; NOT [style glandular-pubescent, at least below] |
| | upper portion of style hairy; NOT [upper portion of style not hairy, or with only a few stiff hairs] (BF) |
| | style hooked in fruit |
| | style NOT plumose in fruit |

Geum: Answers to key questions in Budd's Flora and Flora of Alberta leading to this genus.

| | |
| --- | --- |
| | herbs, or with a woody base and otherwise herbaceous; NOT [shrubs or trees] |
| | leaves compound; NOT [leaves simple, usually toothed], NOT [leaves much dissected into linear lobes] |
| | basal leaves with more than 3 leaflets; NOT [basal leaves with 3 leaflets] |
| | hypanthium LACKING hooked bristles |
| | calyx double, with 2 rings of lobes, the outer ones smaller than the inner; NOT [calyx simple, of 5 lobes] |
| | petals usually longer than the sepals; NOT [petals small, little if any longer than the sepals] |
| | stamens 10-many; NOT [stamens 5] |
| | carpels 10-many; NOT [carpels 2], NOT [carpels 5-20] |
| | style not articulated at base or deciduous but persisting in the fruit; NOT [style articulated at base and deciduous from the achenes] |
| | style much longer than the achene; NOT [style much shorter than the achene] |
| | style often with an abrupt bend or joint near the middle |
| | style hooked or plumose in fruit |
| | carpels becoming achenes (sometimes on a fleshy receptacle); NOT [carpels becoming drupelets (raspberry-like)] |
Rosaceae: Answers to key questions in Budd's Flora leading to this family.

| | |
| --- | --- |
| | herbs; NOT [shrubs or trees] |
| | plants terrestrial or semiaquatic; NOT [plants aquatic, leaves submerged or floating] |
| | plants NOT with colored milky juice |
| | flower with more than one normal leaf |
| | some or all leaves alternate; NOT [leaves opposite, whorled, or basal] |
| | leaves with stipules; NOT [leaves without stipules, or having glands] |
| | flowers with two floral rings, and with each petal distinct from the others |
| | calyx regular; NOT [calyx irregular, some sepals smaller than others] |
| | flowers regular in shape; NOT [flowers irregular in shape] |
| | stamens usually numerous; NOT [stamens 5 or 10] |
| | stamens usually separate or partly so, not in column; NOT [stamens numerous, united into a column] |
| | ovary of one or more carpels, either separate or enclosed by a fleshy receptacle; NOT [ovary of 5 united carpels] |