Geum triflorum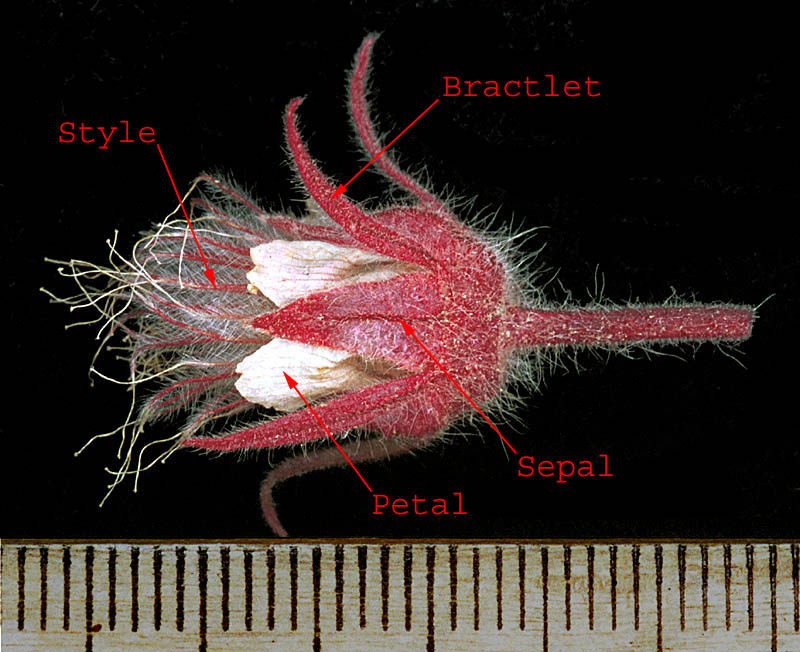 Three-flowered Avens
Later Flower, Side

West Block,
Cypress Hills Provincial Park
05-June-2005

Note the protruding plumose styles.

Note that the key to the genera in Flora of Alberta states that the style of Geum species is often with an abrupt bend or joint near the middle. However, the style of G. triflorum does NOT have an obvious joint.
Triflorum: Answers to key questions in Budd's Flora and Flora of Alberta leading to this species.

| | |
| --- | --- |
| | leaves mostly basal, cauline leaves few (2), opposite; NOT [cauline leaves several, alternate] |
| | leaves pinnate; NOT [lyrately pinnate] |
| | style plumose in fruit; NOT hooked in fruit |
| | style NOT obviously jointed |
Geum: Answers to key questions in Budd's Flora and Flora of Alberta leading to this genus.

| | |
| --- | --- |
| | herbs, or with a woody base and otherwise herbaceous; NOT shrubs, NOT trees |
| | leaves compound; NOT [simple, usually toothed] |
| | leaves NOT much dissected into linear lobes |
| | basal leaves with more than 3 leaflets |
| | hypanthium LACKING hooked prickles |
| | calyx double, with 2 rings of lobes, the outer ones smaller than the inner; calyx NOT [simple, of 5 lobes] |
| | petals usually longer than the sepals; petals NOT [small, little if any longer than the sepals] |
| | stamens 10-many; NOT 5 |
| | carpels 10-many; NOT 5-20, NOT 2 (Flora of Alberta) |
| | style NOT deciduous, persisting in the fruit |
| | style much longer than the achene; NOT [much shorter than the achene] |
| | style NOT articulated at base |
| | style often with an abrupt bend or joint near the middle |
| | styles hooked or plumose in fruit |
| | carpels becoming achenes (sometimes on a fleshy receptacle); carpels NOT [becoming druplets (raspberry-like)] |
Rosaceae: Answers to key questions in Budd's Flora leading to this family.

| | |
| --- | --- |
| | herbs; NOT shrubs, NOT trees |
| | plants terrestrial or semi-aquatic; plants NOT aquatic, leaves NOT submerged, leaves NOT floating |
| | plants NOT with colored milky juice |
| | plants with more than one normal leaf |
| | some or all leaves alternate |
| | leaves with stipules |
| | flowers with two floral rings, and with each petal distinct from the others |
| | flowers regular in shape |
| | calyx regular |
| | stamens usually separate or partly so; NOT in a column |
| | stamens usually numerous; NOT [5 or 10] |
| | ovary of one or more carpels, either separate or enclosed by a fleshy receptacle; NOT ovary of 5 united carpels |