Lomatium foeniculaceum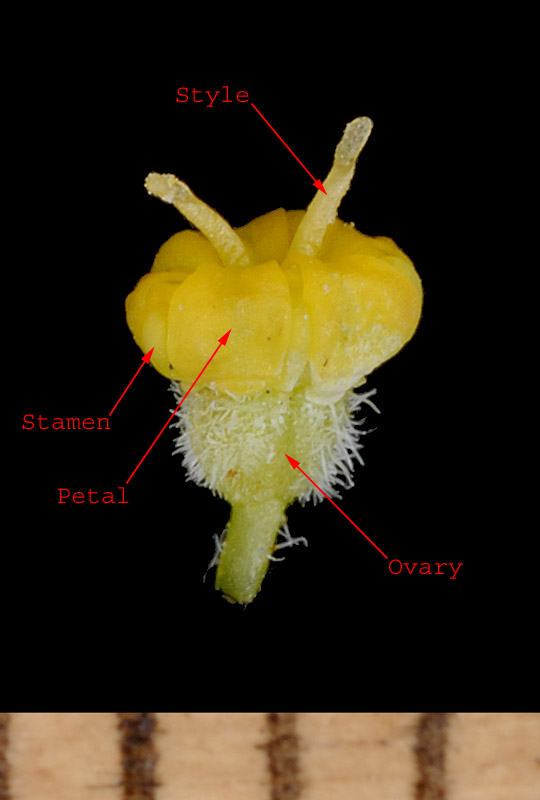 Hairy-Fruited Parsley
Flower with Styles, Side/Top

Buffalograss Provincial Ecological Reserve
09-May-2009
This species contains two types of flowers. Perfect flowers contain both male parts (stamens) and female parts (ovary, style and stigma). If fertilized, perfect flowers will eventually produce fruit. Male flowers contain only male parts and will not produce fruit. The male flowers of this species are usually found in the central umbellets.
The flower in this photo is perfect. The two styles have already emerged, but the five stamens remain coiled. Some time later, usually after the styles have been fertilized, the stamens will emerge. This condition, where the female parts mature before the male parts, is known as protogyny. The purpose of protogyny is to inhibit self-fertilization.
Note the pubescent, bilocular ovary.
Foeniculaceum: Answers to key questions in Budd's Flora (BF) and Flora of Alberta (FOA) leading to this species.

| | |
| --- | --- |
| | plants villous throughout; NOT [plants sparingly pubescent] |
| | leaves much divided; NOT [leaves divided into a few elongate, linear segments] |
| | bractlets fused at the base; NOT [bractlets free at the base] |
| | ovary densely puberulent; NOT [ovary glabrous] |
| | fruit densely puberulent; NOT [fruit glabrous] (BF and FOA) |

Lomatium: Answers to key questions in Budd's Flora (BF) and Flora of Alberta (FOA) leading to this genus. Note that these items do not all apply to all species of Lomatium found on the Canadian prairies, but they all do apply to this species.

| | |
| --- | --- |
| | plants less than 3 dm tall, usually 1-2 dm; NOT [plants more than 3 dm tall] |
| | plants NOT with a bluish tinge |
| | foliage NOT spiny |
| | plants scapose; NOT [plants with stem leaves] |
| | lowest leaves (and the upper) compound; NOT [lowest leaves simple] |
| | leaves much divided, with leaflets or segments numerous; NOT [leaves simple or divided into few well-developed leaflets], NOT [leaves once pinnate], NOT [leaves palmate with 5-7 large leaflets], NOT [foliage digitately compound], NOT [leaves usually trifoliolate; leaflets palmate, 10-30 cm wide] |
| | plants lacking axillary bulblets; NOT [plants with axillary bulblets largely replacing flowers] |
| | inflorescence NOT bluish |
| | NOT [flowers in dense globose heads with spiny bracts] |
| | umbel compound; NOT [umbel simple] |
| | umbel many-flowered; NOT [umbel few-flowered] |
| | involucral bracts small, slightly or not dissected; NOT [involucral bracts large, pinnately dissected] |
| | flowers yellow |
| | fruits more than 5 mm long; NOT [fruits 3-4 mm long] |
| | fruit oblong to elliptical; NOT [fruit linear to clavate] |
| | fruit generally 3 times as long as broad or less; NOT [fruit several times longer than broad] |
| | fruits flattened dorsally (at right angles to the styles); NOT [fruits more or less rounded in cross-section] |
| | fruit winged; NOT [fruit wingless] |
| | fruit winged on the marginal nerves only; NOT [fruit conspicuously winged on marginal and dorsal nerves] |
| | fruit NOT spiny; NOT [fruit covered with short, hooked spines] |

Umbelliferae: Answers to key questions in Budd's Flora leading to this family.

| | |
| --- | --- |
| | herbs; NOT [shrubs or trees] |
| | plants terrestrial or semiaquatic; NOT [plants aquatic, leaves submerged or floating] |
| | plants NOT with colored milky juice |
| | stems hollow |
| | plants with more than one normal leaf |
| | some or all leaves alternate; NOT [leaves opposite, whorled, or basal] |
| | leaves without stipules, or having glands; NOT [leaves with stipules] |
| | flowers in umbels |
| | parts of flowers mostly in fives; NOT [parts of flowers in twos or fours] |
| | flowers with two floral rings, and with each petal distinct from the others |
| | calyx regular; NOT [calyx irregular, some sepals smaller than others] |
| | stamens 10 or fewer; NOT [stamens usually more than 10] |
| | styles 2; NOT [styles 5] |
| | ovary inferior; NOT [ovary superior] |